My Comics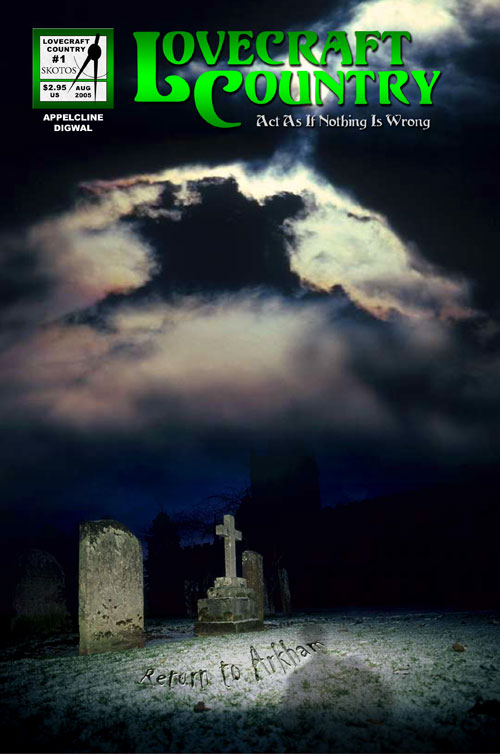 Lovecraft Country #1
Return to Arkham
Skotos Tech: 2005
This is one of two comics that I wrote for Skotos Tech. The primary goal was to draw attention to Skotos' text-based online RPG,
Lovecraft Country
. However, I also wanted (of course) to tell a great story. So this standalone comic tells the story of a young man who comes to Arkham and Miskatonic University to search for his lost brother ... and what he finds there.
Though it was intended to be standalone, I later sketched out a complete first arc for the comic and have written two more scripts — for issues #2 and #3. They play with the various Mythos writers: #1 focused on Lovecraft; #2 on Chambers; and #3 on Dunsany. #4 would be a Robert Howard focus, but I've never gotten to it. At this point, #2 has been partially (and gorgeously) drawn, so maybe we'll see that some day.
Also see:
The Comic Online
;
Lovecraft Lives Article
.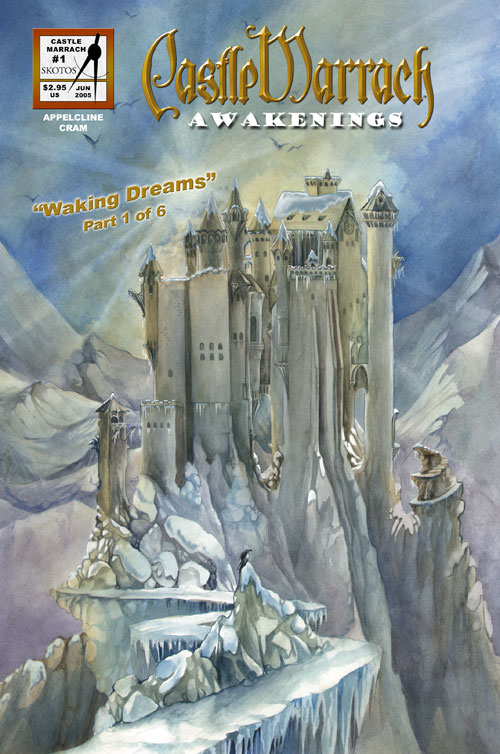 Castle Marrach #1
Awakenings
Skotos Tech: 2005
This is the other Skotos comic that I wrote, based on the rich fantasy background of the online game. Unlike
Lovecraft Country
, I set out to design a six-issue arc for
Castle Marrach
from the start. As with
Lovecraft Country
, we only published the first issue, but that's still (hopefully) an interesting story. I have a script for a second issue and notes for the rest of the arc. For a time, this was my favorite comic-book writing, but since I've decided it's a little caption-heavy in a way clearly influenced by Neil Gaiman. I still like it though, especially the first five pages, depicting the deep backstory of the game.
Also see:
The Comic Online
.
My Major Editorial Work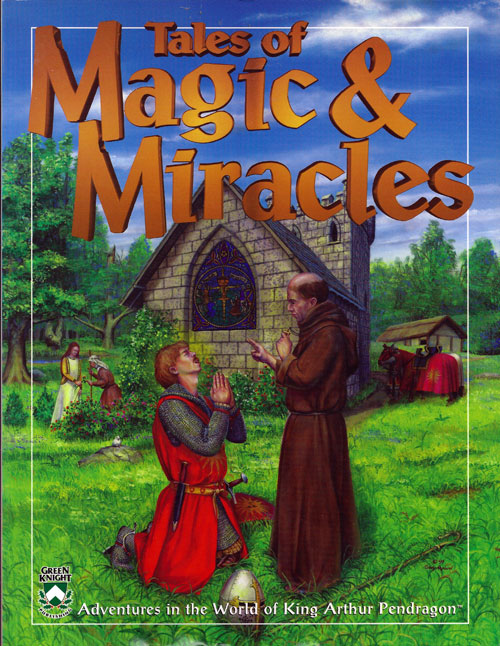 Tales of Chivalry & Romance
Tales of Magic & Miracles
Green Knight Publishing: 1999
I edited a weekly online fanzine for all Chaosium products for several years. It was called the Chaosium Digest. Along the way, I met lots of talented RPG writers and saw lots of material that I thought deserved wider publication. These two books of
Pendragon
adventures came out of that. They were originally planned as one book called
Tales of Valor
, to be published by Chaosium, but then Chaosium lost the rights to the game. Unlike when
HeroQuest
changed hands, this turned out to be good for my book. Where it had been sitting for years at Chaosium, it got published almost immediately by Green Knight as their first two RPG books. (I just had to do some quick editing work, slightly changing the organization to divide things up.)
As a Chaosium Digest influenced book, these have adventures from lots of people (including my friends Bill Filios and Eric Rowe). Besides contributing my initial vision and my editing, I also wrote numerous short adventure ideas, some topical sidebars, and three full adventures: 'The Deceitful Faerie' and 'The Holy Sword' (for
Magic & Miracles
) and 'The Golden Rose' (for
Chivalry & Romance
). I liked 'The Holy Sword' the best because it drove my players to distraction when I ran it for them
Also see:
Chivalry & Romance Index Entry
;
Magic & Miracles Index Entry
. You can buy it at:
Chivalry & Romance (Amazon)
;
Chivalry & Romance (PDF)
;
Magic & Miracles (Amazon)
;
Magic & Miracles (PDF)
.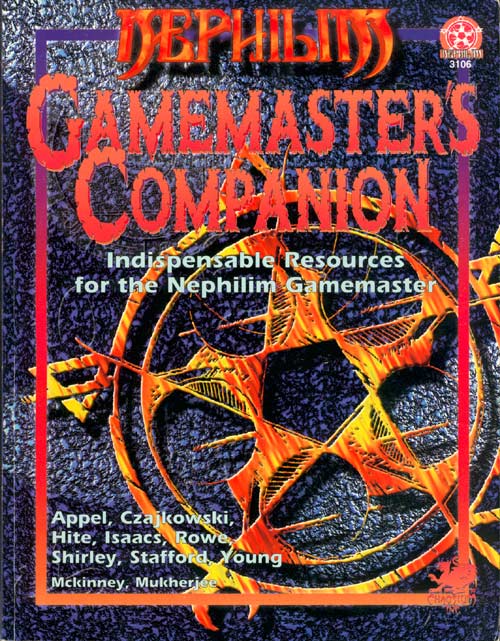 Nephlim Gamemaster's Companion
Chaosium: 1996
This was another Chaosium book that I edited based largely on content from Chaosium Digest writers (plus a few Chaosium regulars). It contains a pretty scattered collection of material, but I suppose that wasn't too unusual for Chaosium's 'Companions' -- which were more common in earlier years. I mostly wrote in this book to fill in the gaps, including outlining a setup for a Nephilim campaign with my friend Eric Rowe. Sadly, the product line was already doomed, because this sort of material hadn't been out there at release. This was also the book that put me off editing. I did so much work in the redevelopment of one rule system and in the serious editing of other sections that I felt like I could have written the material myself (which would have been more personally fulfilling). That's why I stopped editing books following this and the Pendragon adventures, at least in my freelance time.
Also see:
RPGnet Index Entry
. You can buy it at:
Amazon
.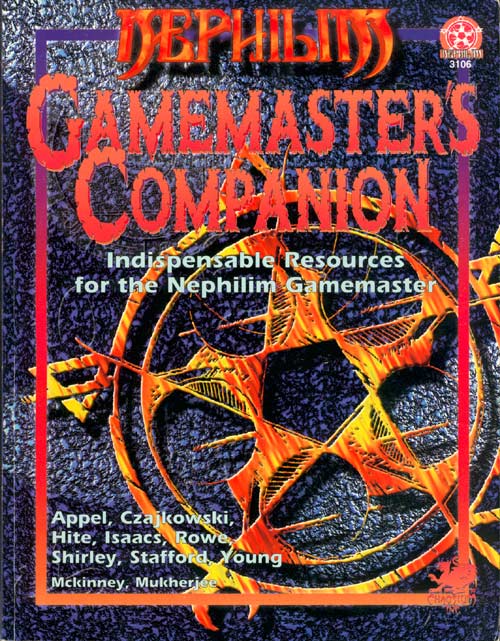 The Chaosium Digest
Self-published: 1993-1998+
The three above books ultimately originated in an email 'zine that I created in 1993 and edited through 1998: the Chaosium Digest. Every week I sent out email with game material for Call of Cthulhu, Elric!, Pendragon, Nephilim, and more. I wrote lots of it myself, but I also had great contributions from many readers. By the time I passed on the newsletter to a second editor in 1998, there were 1,500 people listening. The linked archive includes my original digests, plus the later ones produced by John Thompson. These text files are meant to be viewed with a fixed-width font, like Courier. They're called digests because of old email protocols that let you explode a digest into individual messages, for your convenience.
Also see:
Chaosium Digest Archives
;
Modern Chaosium Digest
;
Modern Chaosium Forums
.